battered russian bangle - copper
SKU: mtb 378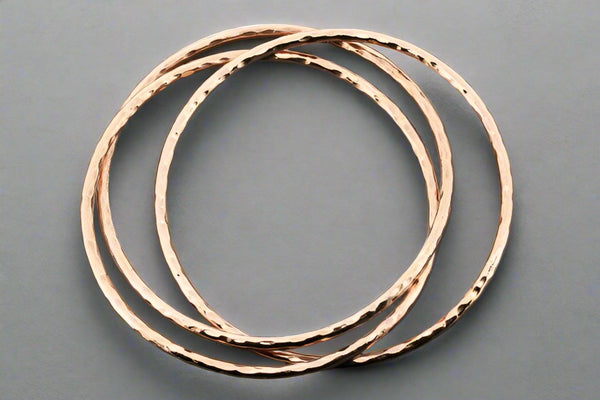 Hand crafted copper bangle. This 3 piece (Russian) interlinked bangle is designed by Alan Myerson in Australia and ethically made by skilled artisans in Mexico. It features a battered texture.
approximate diameter of inside measurement: 68mm
approximate thickness: 3mm
approximate weight: 32grams
Copper was the first metal ever used by humans. Middle Eastern artisans of the 5th and 6th millennia B.C. fashioned this lustrous, orange-red element into: tools, utensils, weapons and jewellery. Copper is said to have many beneficial health properties, including the pain relief of arthritis.

You can either let your copper jewellery tarnish and develop a beautiful aged patina with time or you can easily clean it to maintain its rose gold colour. The easiest way to clean copper: Rub a mixture of 1 tablespoon of table salt and 1 cup of white vinegar onto the copper with a soft cloth and rinse. Or, immerse the tarnished copper into a pot of 3 cups of water and the salt-vinegar mixture, bring to a boil and boil until the grime and tarnish comes off.